Colorectal Surgeon & Proctologist in Los Angeles

Colorectal Surgeon & Proctologist in Los Angeles
Dr. Allen Kamrava is a Board-certified colorectal surgeon and proctologist who specializes in hemorrhoid treatment, colon cancer surgery, pilonidal disease, anal warts, and more. At his facility, located in the heart of Beverly Hills, Dr. Kamrava provides patients with a caring and compassionate touch for their conditions, ensuring that each patient receives ideal treatment for his or her unique needs.

Having a colorectal disease can often be embarrassing, but it doesn't have to be. Millions of people suffer from colorectal diseases, but with his advanced knowledge and innovative treatment methods, Dr. Kamrava can help you in your fight against the disease. With treatments ranging from robotic surgery to minimally invasive hemorrhoid treatment, Dr. Kamrava is proud to provide each patient with personalized care and support.
Innovative Treatment Options for Every Lifestyle
Dr. Kamrava's ongoing clinical research includes methods of superior levels of care for patients who suffer from a variety of colorectal conditions, including advanced colorectal cancers, complex anal diseases, and inflammatory bowel disease. As a solution to these conditions, Dr. Kamrava offers a variety of modern colorectal treatments. These include a wide range of treatments for hemorrhoids, robotic surgery, fecal transplants, cosmetic anal rejuvenation, and more.
Many patients in Los Angeles and surrounding neighborhoods use Google to look for their medical care. If you've recently searched for a proctologist or colorectal doctor "near me", it's time to stop searching and trust Dr. Kamrava. Having a colon and rectal doctor you can trust is extremely important. Don't put your life in the hands of a local proctologist with no reputation. Dr. Kamrava has an average rating of 4.7 out of 5 stars across multiple review sites including Yelp, Vitals, and more. Thousands of patients trust Dr. Kamrava to be their specialist of choice and treat embarrassing colon and rectal issues.
If you would like to schedule an appointment, please give us a call or fill out an online appointment form. Your life-changing journey begins now.

Innovative Treatment Options for Every Lifestyle
You're Not Alone
–
Millions of People Suffer from
Colorectal Conditions
State of the Art Robotic Surgery
–
Learn About Advanced Treatment Options
Non-Invasive Cancer Sreening Methods
–
Detect Cancer Early With Anal Paps Smears
Colon Cancer is The Third Most Common Cancer in the U.S.
–
Dr. Kamrava Can Help You Overcome the Disease

With treatments ranging from robotic surgery to minimally invasive hemorrhoid treatment, Dr. Kamrava is proud to provide each patient with personalized care and support.
"Dr. Kamrava is one of the nicest doctors I have encountered. He was friendly, professional, and very knowledgable. He put me at ease immediately and I was very nervous when I arrived at the office. His assistant was also very friendly and helpful. I would certainly recommend this doctor."
"Everyone was friendly and top notch!"
"Unusually short wait to see two collaborating surgeons who both took time and were personable and knowledgeable about my problem. Dr. Kamrava was clear about being available for telphone contact regarding questions about any procedue following consultation." Patients travel from all over California, and even foreign countries, to be treated by Dr. Kamrava. While we are pleased to serve patients that are willing to travel, we offer convenient appointments to those in the local Los Angeles area and its surrounding neighborhoods. Areas we frequently serve include Beverly Hills, Los Angeles, Santa Monica, Encino, Marina Del Ray, Calabasas, Studio City, Encino, Sherman Oaks, West Hollywood, Torrance, Long Beach, Bakersfield, Lancaster, Brentwood, Westwood, Woodland Hills, North Hollywood, El Monte, Riverside, Pasadena, Silverlake.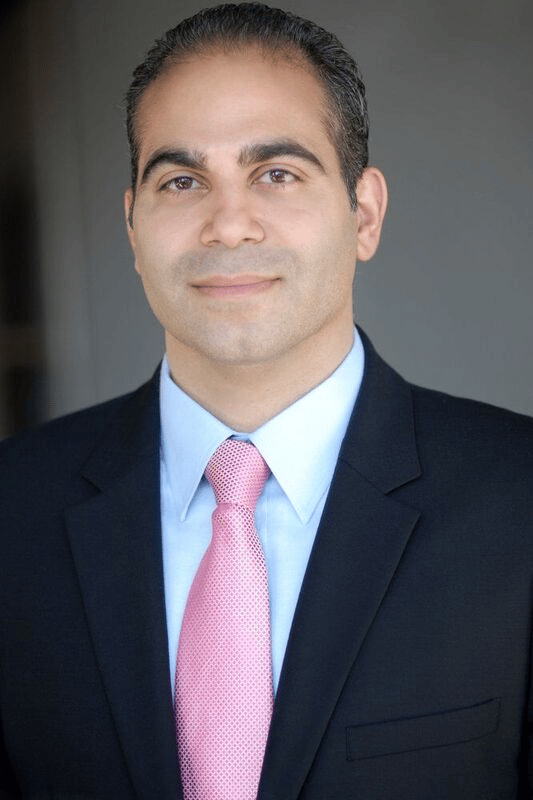 About Dr. Allen Kamrava
Allen Kamrava, MD is a Board-certified colorectal and general surgeon who uses innovative and exciting technologies to treat colon cancer, hemorrhoids, and other colorectal conditions. Dr. Kamrava's clinical research interests include the care of patients with inflammatory bowel disease, advanced colorectal cancers, and complex anal diseases.
Dr. Kamrava earned his Bachelor of Science degree in Neuroscience at the University of California, Los Angeles. His studies continued in Philadelphia, where he completed a dual graduate degree in medicine and business administration at Temple University's School of Medicine and The Fox School of Business. He then completed his General Surgical residency at Kaiser Permanente Hospital in Los Angeles and his fellowship in Colon and Rectal Surgery at the University of Pennsylvania. Through his education, Dr. Kamrava learned the advanced skills needed to treat complex colon and rectal diseases. He simultaneously received certification in advanced laparoscopic and robotic surgical techniques. Dr. Kamrava is board-certified in Colon and Rectal Surgery.
With specialized training in Colorectal surgery and his advanced education in business administration, Dr. Kamrava is developing methods for improving healthcare workflows and efficiencies. His background also allows him to provide both advanced and time-tested solutions for his patients and the system as a whole.